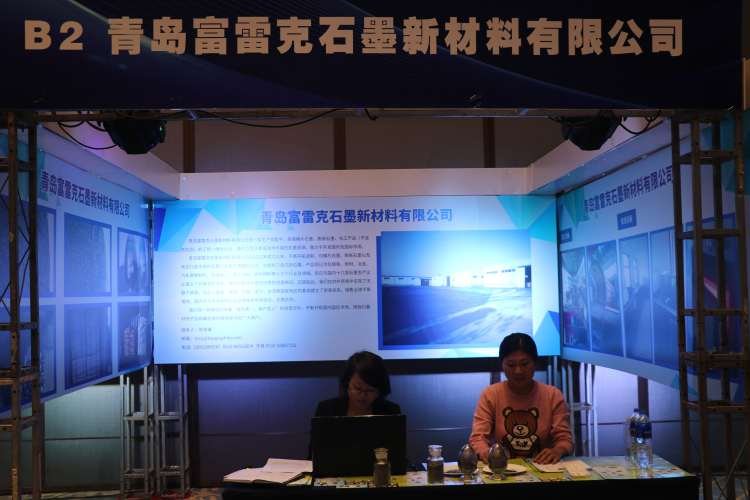 On October 16-17, the first functional refractory trade fair hosted by Hebei Refractory Industry Association was held in Tangshan, Hebei. The meeting will invite leaders of the China Refractories Association, industry experts, major raw material suppliers, functional refractory material manufacturers, and steel companies. This time, Liu Zhongling, manager of Qingdao Freyr Graphite Co., Ltd., accepted an exclusive interview with reporters from China Refractories.com.
The following is the interview transcript:
Window of Refractories: We understand that Qingdao Freyr Graphite Co., Ltd. is an enterprise established for 11 years. Foreign trade business has always been the company's main business. There are many flake graphite manufacturers in Shandong Province. Can you talk about it? What advantages does the company rely on to win the favor of the international market?

Qingdao Freyr: Graphite products are a kind of highly homogenized raw materials, and the differences between various manufacturers are not very big. If we want to say what advantages we have, mainly because we have been doing things seriously and steadily for 11 years. The principle of being a person, carefully exploring and establishing a good reputation, our downstream companies understand our good reputation, and give us great support in terms of quality and priority supply, and ensure that we can provide our customers in time Availability and stability of supply.
Window of Refractories: We understand that Qingdao Freyr Graphite's participation in the functional refractory conference must also be focusing on the domestic market to develop such customers. I don't know what proportion of your company's domestic business? Want to increase the share of domestic business in the later period of the company's total share?
Qingdao Freyr: We have always been focusing on foreign trade before. We have gradually realized that the domestic market demand is also very huge. Since 2015, we have successively cooperated with Beijing Lier Ma'anshan Branch, Wuxi South Refractories, and Shanxi Hao The cooperation between Yexin Materials has already accounted for 30% of our company's business. We plan to surpass foreign business in 2019 and account for more than 60% of the company's business share.
Window of Refractories: We have also learned that our company has also officially settled in UnionPay and has completed the transaction not long ago. I don't know if this time we will have a deeper understanding of UnionPay. What do you want to know about UnionPay? aspect? Do you have any questions or suggestions regarding the current cooperation situation?

Qingdao Freyr: Under the patient guidance of Huang Shaoning and the managers, we have a certain degree of understanding of UnionPay and quickly completed a successful transaction experience. Thank you very much for the platform's support. There are more and more cooperations on the Ninelink platform, and I wish the business of the Ninelink platform get better.
Refractory Window: What suggestions do you have for our current service? In which areas do you hope we can improve?
Qingdao Freyr: We hope that after learning about our company's products, Refractories will recommend more suitable for our customers and business. This way, I feel that it will be very helpful to us.
Refractory Window: Thank you again for your support to Refractory Window for many years, and also thank your company for accepting our exclusive interview during your busy schedule, and hope that Qingdao Freyr will make more achievements!